I finally made it to the Watt's Towers! The amazing creation of one man,
Sam Rodia over the span of 33 years
in the
community of

Watts in Los Angeles. The Towers consist of 17 interconnected sculptural structures
embedded with pieces of porcelain, tile, and glass. Truly awesome. "The Heart of Watts" is my impression of one small part of Rodia's masterpiece. I was inspired to paint "The Heart of Watts" to share this unique and wonderful mosaic sculpture... but of all the elements of the towers that I could have chosen for my composition, I picked the heart... and that's about me and where my head is and my heart. I blame it on all the Kundalini yoga heart opening exercises I've been doing.
Greeting cards of my watercolor painting of the sign are available on zazzle.com.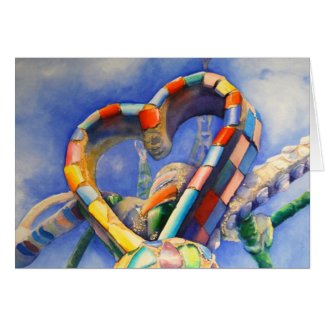 "The Heart of Watts" Greeting Card
by
MaryKayWilson